We've been asking this questions many times so let us clarify!
Most people think that Versailles audio is merely a pickup and drop off with a driver. Actually, it's much more than that!
On both tours, you will have your licensed guide taking you at your hotel and on the way to Versailles (outside Paris), you will have a speech about the Palace's history.
In the gardens that you will also visit, your guide can answer all of your questions.
The main difference is inside the Palace. You can either choose to have a guide with you or have an audioguide. Both last for about one hour. After the Palace, you will be taken to the gardens.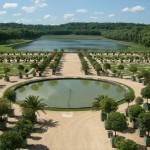 Versailles audioguide
Versailles guided